2017 | FMACS & ARTS&HUMS 5th Doctoral Student-led Conference
SESSION 1
Date: Thursday 29 June 2017
Venue: Keynes Library, 43 Gordon Square
10 : 00-17 : 00
Arrival from 9: 30, where tea and coffee will be available
10:00-11:00 | Welcome, followed by SESSION ONE : WORKING WITH THE BOOK | chaired by Luisa Calè
Gerrie van Noord : Publications and Curatorial Activity
Giulia Bindi : Dreaming Films and Filming Dreams: a Comparative Study of Fellini Films and Dream Journals
11: 00-12: 15 | SESSION TWO : CREATIVE LABOUR, ARTISTIC PRACTICE | chaired by Sophie Hope
Ruth Solomons : 'Stealth Art': a Model for Combining Art Practice with Self-Subsidy through Part-Time Work
Rebecca Sykes : From Bad Faith to Hypocrisy: Andrea Fraser's Institutional Critique
Elena Shampanova : Entrepreneurship in the Arts
12: 15-13:30 | lunch
13: 30-14: 45 | SESSION THREE : WORKING WITH METHODOLOGY | chaired by Tim Markham
Jo Coleman : Talk of the Town:  Practice Makes Perfect?
Sarah Scarsbrook : Qualitative Data Coding
Jaswinder Blackwell : Authenticity and the 'Real Self' in Performer Training
14:45: 16: 00| SESSION FOUR : PUBLIC SPACES, POLITICAL AGENDAS | chaired by Scott Rodgers
Miloš Kosec : The Virtual Afterlife of Cathedral of Freedom: A Case of Architectural Over-Identification?
Güneş Tavmen : Open Data in the UK: A Story of a Discourse Swinging from Transparency to Raw Material for Innovation
Adam Cox : Banking on the Media: Agenda-Building and Post-Crisis Policy Paradigms
15min comfort break
16:15 -17: 00 | RESEARCH MATTERS : presentation on 'The Contemporary', with Donatella Valente, following the publication of the new issue of Dandelion, the postgraduate journal of the School of Arts. Issue 8.1, dedicated to 'The Contemporary'
This issue includes contributions from several of our doctoral candidates, Mara Arts, Hannah Barton, Maria Patsou, Carly Robinson, Rebecca Sykes and Donatella Valente, and it was edited by Rebecca Sykes and Thomas Travers
Following the presentation launch is a celebration, with drinks at 5pm.
ABSTRACTS AND BIOGRAPHIES :
Giulia Bindi : Dreaming Films and Filming Dreams: a comparative study of Fellini films and dream journals
The comparative study of Fellini's film production and dream journals is carried on with the scope of shedding new light on the connection between the dreaming and creative processes (from inspiration to promotion via screenplay, storyboard, filming and editing).
Her most recent work concerns Fellini's dreams journals and films between 1960 and 1965, and she'll discuss the findings in regard to the link between the timing of the director's films and his dream recollections during these years.
Giulia has completed the first year of her doctoral research.
Jaswinder Blackwell : Authenticity and the 'real self' in performer training (performance methods and 'craft' of acting)
This research examines the concept of truth in performance with particular reference to the influence of Stanislavski and how his methods are put to use in British drama schools. The research considers the assumption of the 'truthful' or 'real' being central to the craft of acting, and traces how these ideas are imparted through teaching and training today.
Entitled Smile you're on stage': acting out emotional labour in the service sector, this research considers the links between performance, acting and new forms of work in the service economy. This year my research has involved looking at the rise of 'emotional labour', examining it from a sociological and political perspective and considering it's role in the contemporary economy. What kinds of jobs now require the management of emotions, or the commodification of the self, as part of the work, and what implications does this have for people entering these roles. I have also been looking at the Stanislavskian tradition of actor training, and the way it is used in British drama schools, in order to begin drawing links between the two areas.
Jo Coleman : Talk of the Town:  Practice Makes Perfect?

This paper outlines the reasoning behind incorporating a practice-based methodology with a practice theory framework in an examination of the programme production practices of local community radio in the UK. It will be argued that conducting reflexive practice in the field, combined with ethnographic techniques like interviews and participant observation, yields knowledge that is fundamental to an understanding of the complex and contingent array of activities under scrutiny.
Jo Coleman is a doctoral student and has been working as an Associate Tutor at Birkbeck. She is also the Chair of the Radio Studies Network, MeCCSA
Adam Cox : Banking on the Media: Agenda-Building and Post-Crisis Policy Paradigms
This thesis investigates the media's role in the formation of post-crisis financial regulation, specifically with regards to debate over the appropriate policy paradigm. After interrupting his research in 2016 while settling into a new job as a senior lecturer at the University of Roehampton, he resumed work this year, revising his methodology and beginning his first case study.
Adam Cox has completed content analysis of a sample of news articles published in the Washington Post concerning a major regulatory reform effort n the United States and is about to begin work on a second sample of articles from the New York Times. That will be complemented by further analysis of publications, statements and speeches by various actors in the policy-making arena, followed by interviews with some of them. He was invited to submit a chapter for a forthcoming book on media and austerity, based on this early research, due for publication in 2018.
Miloš Kosec : The Virtual Afterlife of Cathedral of Freedom: A Case of Architectural Over-Identification?
My research of one of the case studies on contemporary architectural reluctance and absence of work brought me to the project of Cathedral of Freedom (also Plečnik Parliament) through which I attempt to explore the possibility of architectural over-identification. The architect's passivity in this case lies in the apparent renunciation of criticality – a renunciation which can, together with over-identification with the client's wishes, turn out to be more subversive than any declarative and externalised criticality.
Miloš Kosec is an architect and editor, and in 2016 started his doctoral research in Arts and Humanities programme, School of Arts, Birkbeck. Entitled "Reluctant Architects: Renunciation, Delegation and Passivity in Contemporary Critical Architecture" the project focues on the lack of action as a critical strategy of contemporary architects. This year Miloš has presented at the Future Architecture Platform launch conference in Ljubljana; the PhD seminar 'Visualisation of Knowledge,' organised by Oslo University in Paris; the Crossing Borders Birkbeck graduate conference; and the Haus der Architektur exhibition and symposium 'Architecture after the Future' in Graz. He has published articles in the Archifutures 2: The Studio compendium, Arhitektura ≠ Umetnost compendium and Praznine.What at first glance appears as a single unrealised architectural project of architect Jože Plečnik's Cathedral of Freedom on closer examination turns out to be made of three distinct projects: the 1947 original, the 1980s neo-avant-garde reinterpretation and post-1990 official identification with the unrealised project by the newly-independent Republic of Slovenia. I propose to examine these three manifestations within their specific socio-political contexts to determine whether dynamics at play could be interpreted as a manifestation of architectural over-identification.
Gerrie van Noord : Publications and Curatorial Activity
Publications about, in relation to, or even as art are complex projects. Often instigated by organisations to complement an exhibition, or capture an artistic practice or a trajectory, they are produced through the interaction of many different actors and agents. It is exactly the complexity of these interactions that is the focus of my exploration, where I specifically home in on the notion of authorship in a range of case studies. And although these take the form of books, I consider them as intricate embodiments of what could be labelled curatorial activity.
Gerrie van Noord is an editor who works in various capacities with artists and arts organisations on publications across the spectrum, from academic journals to critical anthologies, from catalogues to artists' books. She also lectures on art, arts administration and management, and on curating.
Sarah Scarsbrook : Qualitative Data Coding
Over the last year Qualitative Data Coding (QDA) has been carried out on twelve interviews undertaken with fine art graduates on their art school experience.  QDA is a process of the Grounded Theory methodology, which has been applied as the overarching inductive method in analysing the corpus of qualitative data amassed from the interviews.  For this years' student-led conference I will talk about the process of QDA and Grounded Theory covering different aspects of what it is like using this method in relation to the thesis and the extraction of theoretical concepts from the data, but also what it is like to use this method physically, mentally and emotionally as a researcher.  I will discuss how this method became my preferred method as the conduit for ideation, referring to the QDA process and the use of continuous conceptual memoing throughout, leading to my next steps of what I am doing and hope to do with the data and emergent ideas moving forwards.
Sarah Scarsbrook has been developing a teaching practice this year, delivering two modules on the MA Arts Policy and Management – Arts Policy and Planning in the first semester and Marketing Strategies and Planning module for second year running in the second semester. As well as this, Sarah teaches classes on the Interview as Method for the FMACS BA Research Methods course, and is currently undertaking dissertation supervision for an Arts Policy and Management MA student.  Alongside, she has completed her research interviews and has developed her methodology to carry out qualitative data coding to analyse her data.
Elena Shampanova : Entrepreneurship in the Arts
What is economics of the arts? How is it different from any other areas? What role do cultural entrepreneurs play in it? Why do we need to understand cultural value and intrinsic motivation? What part do risk and uncertainty play in the life of an artist who chose to become a cultural entrepreneur? These are some of the questions Elena has been looking at during her first year, and which will be covered in the presentation.
Rebecca Skyes : From Bad Faith to Hypocrisy: Andrea Fraser's Institutional Critique
In my presentation I intend to trace the way bad faith characterisations of 'historical' institutional critique have developed into allegations of hypocrisy made against those contemporary artists who practice institutional critique, thanks to the heavy-handed application of critique, as a method of interpretation, to these artists' work
Ruth Solomons ; 'Stealth Art': a model for combining art practice with self-subsidy through part-time work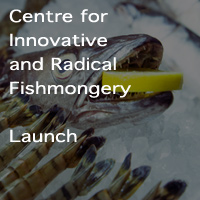 This presentation focuses on a current interest in my research: defining 'work' in relation to art practice. In the current financial climate where practicalities (part-time jobs, studio rent increases, general rising living costs) take artists ever further from their practices, artist Sam Curtis has opted to combine his job as a fishmonger with his art practice. He operates as a fishmonger, and as an artist, in parallel. He has reconciled himself to this approach through a conceptual approach – 'Stealth Art' – which enables him to discard conventional disciplines and spatial/temporal separation of art from external practicalities, instead approaching art practice as something which is concurrently 'useful'. The presentation will explore possibilities for this approach to solve problems around 'sustaining' art practice, as well as the limitations set up by following this specific conceptual approach.
Ruth Solomons is a third year part-time FMACS student conducting practice-led research into 'how artists work'. During the past academic year she has written an editorial for JAWS Journal issue 2:2, (Winter 2016/17) 'Interdisciplinarity: communicating research through arts practice', and also took part in Birkbeck's Corkscrew Conversations series, where she presented in conversation with Dr Katrine Hjelde (6 June 2017). Recent group exhibitions include: InterRailing (Europe House, London, 2016) curated by Dr Paul Ryan, and Drawn for Something Else (Rogue Artists, Manchester, 2016) curated by Dr Emily Strange.
Güneş Tavmen : Open data in the UK: A story of a discourse swinging from transparency to raw material for innovation
This presentation will be about the brief history of UK's previous coalition government's transforming the idea of open data from an apparatus of transparency into an economic value generator. While initially open data was promoted to prevent public scandals such as MPs expense scandal that happened in 2009, in few years time, it was rather given as the 'raw material' to revive the economy in the time of austerity. Through a Foucauldian discourse analysis, the paper aims to track the ways in which open data is instrumentalised within the modes of neoliberal governmentality.
Güneş Tavmen has organized several events this year, including Birkbeck Institutes' Graduate Conference, with the theme, 'Crossing Borders: Negotiation, Provocation, and Transgression,' and more recently, a talk by Prof Louise Amoore, 'Cloud Futures,' sponsored by BIRMAC and Vasari. The whole year has felt like constantly running somewhere and being pressed for time, but this is pretty much what appears in the paper.