18 May 2016 | Introduction to the Lahire screening | Selina Robertson
Thank you Ricardo for a really illuminating introduction to our first two films by Barbara Hammer. I'd like to begin also by locating my starting point for this afternoon's screening. Firstly, it was beginning a friendship with my Birkbeck curating colleague, Ricardo, and our shared appreciation for the feminist film praxis of Maya Deren and Barbara Hammer. Secondly, it was reading my friend Sophie Mayer's inspired chapter "Uncommon Sensuality: New Queer Feminist Film/Theory" in the book Feminisms (2015) eds. Laura Mulvey and Anna Backman Rogers, where she posits the question whether the Lesbian is still Apparitional as regards contemporary queer feminist moving image theory and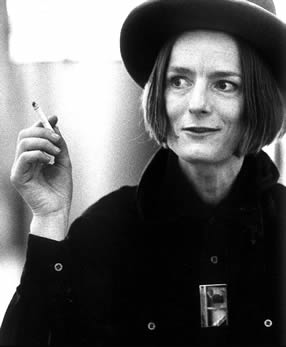 practice; and thirdly, when I was working at BFI Production in the mid 1990s I encountered Sandra Lahire's films about anorexia and Sylvia Plath. Her radical film practice deeply affected me and since that time I have wanted to find a context to show her films to an audience. When I was a programmer at BFI Flare in the early 2000's, I considered it but at that time there was difficulty accessing the film material and so it has taken until today – 18 May 2016 to do it.
As Ricardo has already explored in his brilliant introduction to Barbara's films, our concept of 'The Apparitional' is a reference to Terry Castle's luminous 1993 literary and social history, The Apparitional Lesbian, where she locates the
'ghosts' of lesbian sexualities obscured by history. For Castle, within the history of modern cultural life – Greta Garbo's cinematic apparitional lesbianism or the charged erotic paintings of Tamara de Lempicka – the lesbian remains a haunting in the visual and literary landscape of modern life. Elusive, vaporous, difficult to see in full view but, as Sophie suggests in her chapter, apparitionality can be made visible and invisible depending on how you look. Terry Castle also proposes this apparitionality is a form of 'cultural power', she writes 'within an image of negativity is the possibility of recovery'.
Sandra Lahire was a radical lesbian feminist experimental filmmaker whose output was prodigious. She made experimental films in order to bear witness, throw a scorched light on a feminist fightback against the perversity of the global capitalist system and the social, the psychic and environmental destruction as fall out. She worked collaboratively with other key feminist experimental filmmakers from the 1980s-90s: Lis Rhodes, Tina Keane, Noski Deville, Jean Matthee, Sarah Pucill, Anna Thew and Sarah Turner. Together these women engaged in a collective feminist film practice that spanned several decades. Film practice as a collective form of activism that involved advocacy, filmmaking, writing, programming, curating and discussion, in 2002 for Vertigo Sarah Turner described this practice as "thirty years of dissent and debate."
This afternoon we draw on Castle's theory on the cultural hauntings of lesbian apparitionality, as well as Mayer's concept that to do queer / feminist film theory is to work often with the apparitional; in fact in her Feminisms chapter, she quotes Hammer's own chapter on 'The Invisible Screen: Lesbian Cinema' in her 2010 book, Hammer! Making Movies out of Sex and Life – and I'd like to re-quote it here: We discovered who we were as we stepped into the void, the invisible, the blank screen, and named ourselves lesbian. That was the first step. There could be no semiotics if there was no sign.'
Barbara wrote this about and her film practice in America in the 60s, Sandra Lahire's anti-nuclear trilogy, Uranium Hex (1987) and Serpent River (1989) (the third film, Plutonium Blonde, also made in 1987) was similarly made in a charged socio-political landscape of Thatcher's Britain, Clause 28, Greenham Common Peace Camp (in 1982 – 30,000 women formed a human chain around the military base housing American nuclear missiles), the 1984-85 miner's strike, the civil conflict in Northern Ireland, AIDS and early queer activism, punk and the radical feminist cinema of Laura Mulvey and Sally Potter, a 2nd generation of London Filmmakers Coop women filmmakers whose practices were exploring ideas around subjectivity and sexuality that prompted a move away from the structural-materialist cinema of the 1970s and finally led to the formation of Circles, the feminist film and video distribution company that had been set up to distribute women's and feminist cinema on their own terms.
Uranium Hex and Serpent River are unquestionably directly connected to Greenham, the feminist anti-nuclear movement of the decade and the politics of the Left. Set in North Ontario, the films make visible the invisible menace of nuclear, industrialization, radioactivity and uranium mining or 'yellow cake' as its colloquially known. The people, women's work and their bodies (both the miners and First Nations People), the environment and natural resources all bear the scars. Uranium Hex was funded by the Arts Council in 1987, directed and edited at the London Filmmakers Coop and Four Corners by Sandra with video camera by Tina Keane. Serpent River was directed, shot and edited by Sandra at the Coop and Four Corners for Channel 4 in 1989. Channel 4, during its heyday of commissioning radical lesbian and gay television catering specifically for 'minority' queer and BAME audiences: a temporality and convergence that Mandy Merck, editor of Channel 4's trailblazing 'Out on Tuesday' television series, has called 'The Lesbian Left'.
We had intended to show Uranium Hex on a 16mm print, with a separate audio file, the format that Sandra had mastered, and had wanted it to be shown; but unfortunately it's not been possible to realize this here in the cinema due to the technical set up. So we will be showing both films on digital files which is not the intended screening format of the director.
Both films were shot on 16mm, with the use of an optical printer, a 'hands on' film practice that was key to both the practice of Hammer and Lahire at this time. Significantly, in a roundtable 2014 interview for Central St. Martin's Moving Image Review & Art Journal, artist and filmmaker Nina Danino remembers how the Co-op women's use of an optical printer 'explored its possibilities but used structural techniques such as repetition, superimposition and other aesthetic effects …Women working with representation and the subjective may also have created a context for developing men's practices such as those of David Finch or Guy Sherwin. Women's practice started to mould and change the kinds of representation this equipment could produce.' Indeed, this is a history about a shared form of feminist film practice linking aesthetics and technology that is only now coming to light.
Through Sandra's use of the optical printer, her uranium films explore [to quote her] 'the religion of male technology' and the radical position of being a lesbian feminist artist within a discourse of male scientific progress, that includes the history of the X Ray and Dr. Watson's research, the pilfering of First Nations lands and people, corrupted power, 20th century capitalism and ultimately the exploitation and destruction of the body, the traumatised female body (medicalised, pathologized, objectified), vulnerable bodies of the women miners, the terminal affects of radiation, cancer and mortality. In Uranium Hex, over aggressive sounds of machinery we hear a woman miner repeatedly speak: 'it was like being under an X-ray machine day and night'.
Lahire's experimental film practice was deeply connected to her own body and struggle with anorexia, which took her life in 2001 at the age of 50. Jacqueline Rose wrote Lahire's obituary for The Guardian, writing: 'Making films, animating, bringing to life, was, as she said repeatedly in her commentaries on her own films and in her critical writings, a way to reassert the body in the face of erosion'.
Sandra ferociously engaged with the limitations and fascinations of her own body throughout her film practice, Arrows, made in 1984 is a fierce address to Western patriarchal culture for its objectification and exploitation of the female body – and, as with our two films this afternoon, the female body and the environmental body are one. When we watch these films we witness once again these growing apparitionalities and psychic hauntings within the raw bones of the film's materiality (it is here that again I deeply regret not being able show her films on 16mm).
In Uranium Hex, Lahire appears on screen drinking what appears to be radioactive water, water that the Rio Zinc Company had poisoned as a result of its industrialized uranium mining. In both films, her back is repeatedly displayed for the camera, sometimes as flesh and other times as a jumping or dancing (depending how you look) red skeleton illuminated under an X ray machine. She becomes her own subject – 'I am so aware of my body,' she says in Arrows, but how can we not directly relate this to Uranium Hex and Serpent River? Sandra quotes Adrienne Rich in her 1985 essay for Undercut, 'Lesbians in Media Education': 'When a woman tells the truth she is creating the possibility for more truth around her'. In Serpent River, Diane is the first women uranium miner who speaks out – firstly about her own body. 'I have developed muscles that I never knew I had,' but also whose oral testimony reveals the toxicity of radioactive waste buried in First Nations lands labeled National Sacrificed Areas, land that will remain radioactive for thousands of years.
In Sandra's films the politics of the film medium and the politics of the subject are one and the same, emerging as politicised queered and gendered apparitions through a breathtaking alchemy of images and sounds. As we will see, her films reveal a stunning array of experimental techniques – superimposition, re-filming, changes of speed, pace, an intricate layering of sound, field recordings mixed with voices and folk music. 'Wherever I am and come from, my tongue is Lesbian' Lahire wrote about being an artist. Her concept of the Lesbian Body was about 'a relationship of self to self and self to other, as with Barbara's blank screen to Lesbian screen. Intersecting lesbian apparitionality can willfully be used as a political and aesthetic tool: a feminist fightback to keep past and contemporary queer feminist moving image histories alive.